Event Management and Consulting Services
Karma Race Management is able to provide event management and consulting services. If you or your organization would like to start an event but are not sure where to start we can provide direction and assistance. We can also analyze more established events and give fresh perspective or help craft new ideas to revitalize any race. Whatever your need, Karma Race Management is able to help with a broad array of race management and event planning logistics.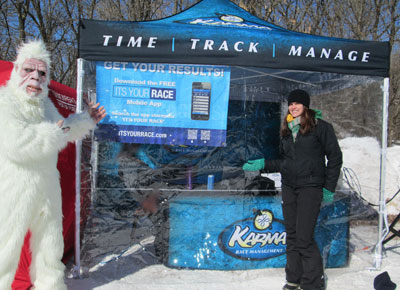 Chip Timing
We provide state of the art disposable RFID chip timing utilizing Jaguar Timing Systems. This cutting edge technology is unlike anything you have ever seen. We utilize overhead or side antennae's, no mats or ramps are needed, providing a clean finish line for your participants. Our results accurate to the 1000th of a second with maximum redundancy to ensure fast and accurate results.
Hand Timing
We do offer hand timing for smaller events. Contact us if you would like to pursue this as a chip timing alternative for your event.
Online Event Registration
Every event for the participant starts with registration. At Karma Race Management we understand the importance of a seamless and efficient registration for your participants. We have worked with many registration platforms and can assist you with the setup of your event. We can also show you some of the newest industry leaders in the registration marketplace like "ITS YOUR RACE" that take the extra step to provide that first class experience for all of your participants.
Custom Mobile App for Your Event
We can provide a high quality affordable custom mobile app for your event. This is a great way to get race day information and results quickly & effectively to your participants. Contact us for the details to get started!
Equipment Rental
Every event requires a certain amount of equipment. Equipment could range from road cones, banquet tables, to a PA announcement system. We understand that many individuals and organizations would rather not purchase equipment and we are able to help! We have a wide variety of equipment available for rent. Let us know what you are looking for and we will take care of it.
Course Development
We have developed many race courses and understand the important dynamics that need to go into a safe, fun and challenging course for your participants. If you would like us to develop a course from start to finish or if you would like us to take a look at your current course to see if we have any suggestions Karma Race Management can help.


Let Karma Race Management take the worry out of your race day jitters.
We can manage, so you can find peace of mind and enjoyment with your fellow participants.